MBA Benchmarking Visit to the University of Nottingham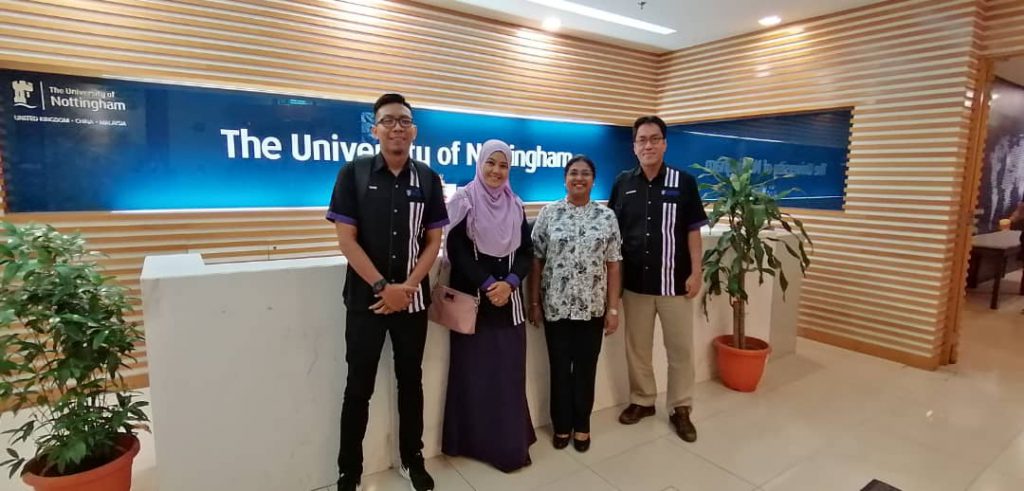 As part of MBA Program continuous improvement effort, Dr. Siti Sarah Omar, Mr Hariz Khalid and Mr Nazarudin Bujang visited University of Nottingham on 10th of December 2019. Representatives from Department of Business Management, Faculty of Technology Management & Business met up with Dr Anita Chakrabarty, Director of MBA Program, University of Nottingham. Even though the team went through long journey from Batu Pahat to Kuala Lumpur and the traffic condition in Kuala Lumpur City Centre was heavy, the benchmarking visit was very fruitful and worthwhile. There are several elements, structure, delivery method, assessment and best known practices which can be learned and implemented in FPTP MBA Program.
University of Nottingham MBA Program started in 2001 and is delivered at their Kuala Lumpur Teaching Centre (KLTC) which is located in Chulan Tower on Jalan Conlay within Kuala Lumpur City Centre. The course structure includes 12 taught modules (8 core modules and 4 elective modules) and a Management Project. Most of the Modules do not have final exam and it is replaced with equivalent course project. Full time students could complete the whole MBA program within 1 year, while part time student could take 2 to 4 years to complete. The key strength or competitive advantage of Nottingham MBA Program is strong engagement and collaboration with industry and business leaders. They regularly hosted Business Leaders Seminar Series, which serves as a platform for interaction and exchange of ideas with local and international industry leaders from various sectors. They also organized international study tours for students every year. The tours include visits to global companies such as Ali Baba, Lenovo and Tencent, meetings with top executives as well as relevant universities for exposure to business engagement and business research apart from cultural excursions.
Its location at the heart of city centre is very strategic and close proximity to big corporations in Kuala Lumpur. The brand name is also strong as the Nottingham MBA is ranked in the global Top 100 and in the UK's Top 12 Ranking. Despite the fact that the tuition fee is very high, Nottingham MBA Program is preferable due to strong branding, program quality and strategic location.